Emergency Diversion
NYCC have issued the following notice regarding the temporary closure and diversion of part of the Aislabie walk where it passes through Hackfall. The affected section, which is also part of the Ripon Rowel, lies between Fisher's Hall and Mickley Barras. An alternative route has been provided.
Important notice: Due to a recent rockfall in Hackfall a section of path is currently closed. This affects the route of the Ripon Rowell and Aislabie Walk, however diversions have been put in place so you can still enjoy your walk and visit to Hackfall. For your own safety please follow and adhere to on site notices and signage.
You can download a .pdf (200k) file showing the closure and diversion here, click image: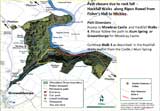 Commenting is closed for this article.